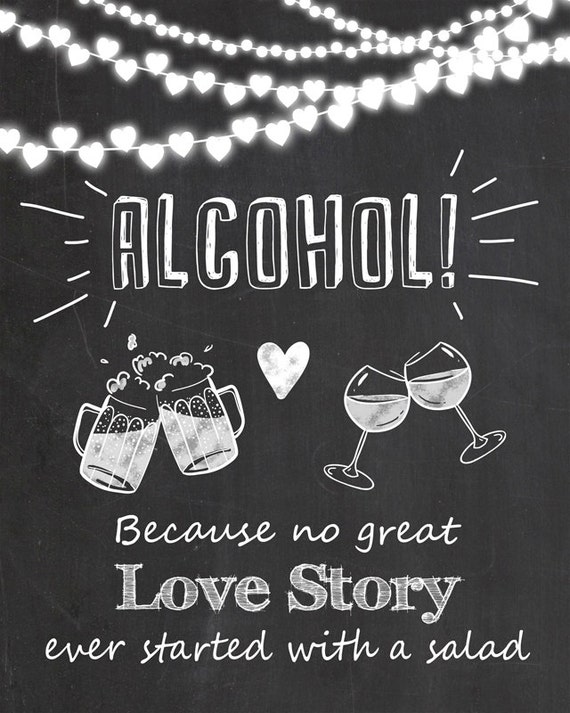 Image: Etsy
Signature Drinks
Many moons ago… before everyone's wedding was on Instagram, pinterest, snap chat or even Facebook, guests attending weddings would choose their favorite libation and celebrate all night with the beer or wine or vodka-cranberry of their choice. Then we got technical! Signature Drinks made their debut at weddings roughly in the early 2000's and it became a fast growing trend that caught every Bride and Groom's to be eye! We love the idea of using wedding signature drinks as a way to put a little more personalization on your wedding day! Whether it's a Blushing Bride pink cocktail or your favorite Jack and Diet named something cute like the Cammaratta Cocktail (to incorporate your new last name), signature drinks can make the bar that much more fun on wedding day! 
Recently, we participated in a fun Facebook live styled shoot where we made a variety of seasonal signature drink cocktails that can help brighten up any wedding day! Jaime Reinhart of Jaime Reinhart photography worked with us to capture these beautiful images of the fun (and tasty!) drinks we created. Featured above, is an Apple Cider Sangria. This drink is perfect for fall weddings where Crisp, Autumn Breezes are blowing and fall leaves are crackling on the ground! What makes this a great option as a signature drink is that your venue can pre-batch it and serve it over ice with fresh fruit in the bottom and a cinnamon sugar rim on top!
Sometimes, a great champagne cocktail is the answer to your wedding day beverage choice! This colorful drink works for two reasons… First, it's a pink signature drink and Second, it's simple to make! Your bartender will thank you for giving them something easy to make. A Champagne Cocktail such as this Blushing Bride Signature Drink (Champagne, Peach Schnapps & Grenadine) is sure to wow your guests and taste yummy all night long! This cocktail is great for the spring because it is light and slightly sweet. Makes for a sweet afternoon sitting on the porch swing too!
A crowd pleaser at any wedding is always a mojito! Here we are showcasing a fun, summer twist on the classic mojito by adding fresh muddled raspberries to the mix! This yummy cocktail suits both a color and style as a signature drink selection. In many of the Spanish cultures, the Mojito is the drink of choice and will be a must drink on many guests minds as they attend your summer wedding. Slightly sweet, slightly sour, this Raspberry Mojito is perfect for those sunshine time of the year weddings. The pink color makes it a great choice as a signature color cocktail as well! Try different variations of this drink by using blueberries to create a blue colored beverage, blackberries for something more purple or even lemons and limes for something softer in color and more citrus like in taste!
Finally, we have my favorite. An oldie, but a goodies… a Moscow Mule. This lovely little treat is featured here with a twist on the classic but using pineapple as both a garnish and a flavor in the cocktail. We love the look (and taste!) of this drink because it's warm and fuzzie with the ginger beer and still uniquely fruity with the pineapple. Perfect for Winter Weddings this Classic Signature Drink can serve as both a favor for your guests (who wouldn't want to take that adorable mug home!) and also a vessel for them to enjoy a cocktail from the evening of your wedding. This refreshing drink gives us all the winter wedding vibes and was hands down our favorite of the bunch! If you and your soon to be Mr. or Mrs. are big on craft cocktails, this would be the perfect Signature Drink for your rustic soiree!
When creating your bar, don't forget signage to let your guests know what they are drinking! Including a bar sign like the ones below from Etsy, are great additions to any bar to give guests a heads up that you've got something special for them.
Happy Drinking! 
Signature Drink Photos Courtesy of Jaime Reinhart Photography!